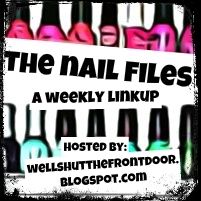 Holy moley, I am back on the nail files link up for the first time in a few months! In that time that I've been away I've had countless manicures (Ok, not really. Just 2x a month so you do the math!), and they have not been featured on the link up. All that is changing now. I'm including pics of my current manicure, and my awesome one that I meant to post for the fourth of July, and didn't. Womp womp on my late-ness.
I saw my hairdresser wearing a green color on her nails, and right then I wanted to do the same thing because it looked so pretty. Hers however was more of an evergreen. It was darker, and mine is lighter. I still was pleased. I think my nail lady didn't want to paint my nails this color at first because she made a comment about how it was a different color than what the bottle showed. When we were finished though she changed her story. She liked it, and so did I.
Yay! Fourth of July nails! I was really excited for this manicure because it is so festive.